Title: Dark Places
Author: Gillian Flynn
Format: Hardcover
Publisher: Shaye Areheart Books
Publish Date: May 5, 2009
Source: Library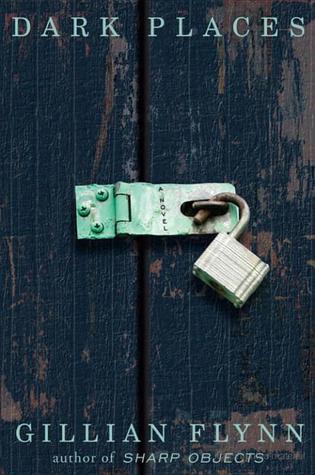 What's the Story?:
From Goodreads.com: "

Libby Day was seven when her mother and two sisters were murdered in "The Satan Sacrifice" of Kinnakee, Kansas." She survived—and famously testified that her fifteen-year-old brother, Ben, was the killer. Twenty-five years later, the Kill Club—a secret secret society obsessed with notorious crimes—locates Libby and pumps her for details. They hope to discover proof that may free Ben. Libby hopes to turn a profit off her tragic history: She'll reconnect with the players from that night and report her findings to the club—for a fee. As Libby's search takes her from shabby Missouri strip clubs to abandoned Oklahoma tourist towns, the unimaginable truth emerges, and Libby finds herself right back where she started—on the run from a killer."
My Two Cents:
"Dark Places" is by Gillian Flynn, the author of "Gone Girl." Ever since I read "Gone Girl," I've been on the lookout for a book about me away as much as "Gone Girl" did. The character of Amy in that book is just so devastatingly dark. This book is a lot different than it "Gone Girl." Libby was only seven years old when she believes that her brother killed her mother and her sisters. He gets thrown in jail and she grows up. She is pushed to recall old memories when a secret society that focuses on crimes believes that her brother wasn't really the killer will be it hasn't lived that great of life and when the club promises her money, she decides to get involved. Little does she know how her life get turned upside down.

This book took me a little while to get into but once the story started unfolding and Libby began to confront her past, I was pulled in. Libby is a way different character than Amy but it definitely works for this book. Even with a slow start, once the book got going I was hooked. The spark hold my intention and is definitely a good thriller.

I liked the way that the author created a sense of suspense throughout the book. I was really eager to unravel the story. I will definitely read more by Gillian Flynn in the future.