Title: The Ship of Brides
Author: Jojo Moyes
Format: Paperback
Publisher: Penguin Books
Publish Date: October 28, 2014
Source: Library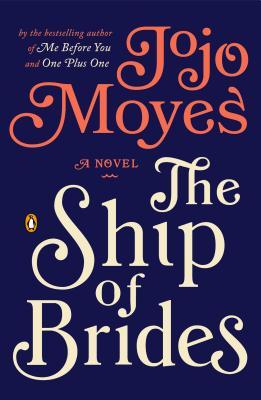 What's the Story?:
From Goodreads.com: "1946. World War II has ended and all over the world, young women are beginning to fulfill the promises made to the men they wed in wartime.
In Sydney, Australia, four women join 650 other war brides on an extraordinary voyage to England—aboard HMS Victoria, which still carries not just arms and aircraft but a thousand naval officers. Rules are strictly enforced, from the aircraft carrier's captain down to the lowliest young deckhand. But the men and the brides will find their lives intertwined despite the Navy's ironclad sanctions. And for Frances Mackenzie, the complicated young woman whose past comes back to haunt her far from home, the journey will change her life in ways she never could have predicted—forever."
My Two Cents:
In "The Ship of Brides," we follow several women who are are leaving the only home they've ever known in Australia to go to England after World War II to meet up with the British soldiers that they fell in love with during the war. One of the reasons that I most love reading historical fiction is because I often learn about things that I've never known before. This book definitely had that for me. I had never heard of these women who left their own countries to marry soldiers after the war. I also enjoy JoJo Moyes' books and although this is not my favorite book of hers that I have ever read, it is still a good read that will appeal to many of my fellow historical fiction lovers.
This book was a little bit hard for me to get into at first as I was getting to know the characters. Once the author begins to give us the motivations behind the reasons that these women got on the ships towards the unknown I got a little bit more into the story. This book is definitely one with characters where what you initially see is not always what you get. This story follows several several women each to have their own motivations in their own reasons for getting on the ship. Some of them fell in love. Some of them are looking for an alternative life. Some of them just want to run away.
Overall, this was a interesting story. As I mentioned, I love Moyes and up until this point, I had only read her books set in modern days. It was interesting to see how she took on historical fiction. I definitely enjoyed her take on this new-to-me historical event!