Title: Best Day Ever
Author: Kaira Rouda
Format: Hardcover
Publisher: Graydon House
Publish Date: September 19, 2017
Source: PR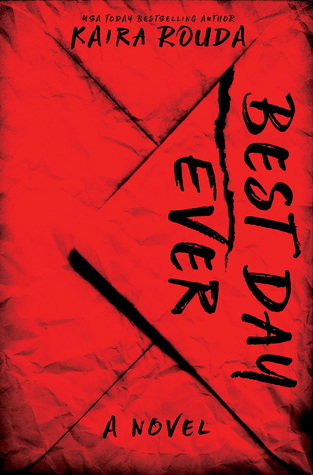 What's the Story?:
From Goodreads.com: "

Paul Strom has the perfect life: a glittering career as an advertising executive, a beautiful wife, two healthy boys and a big house in a wealthy suburb. And he's the perfect husband: breadwinner, protector, provider. That's why he's planned a romantic weekend for his wife, Mia, at their lake house, just the two of them. And he's promised today will be the best day ever.
But as Paul and Mia drive out of the city and toward the countryside, a spike of tension begins to wedge itself between them and doubts start to arise. How much do they trust each other? And how perfect is their marriage, or any marriage, really? "
"Best Day Ever" is the story of Paul and Mia. From the outside, their lives look pretty perfect. Paul is a successful ad exec who prides himself on his mind and body. Mia is the perfect wife and mother. The story opens when Paul is taking Mia to their lovely lake house for what promises to be a weekend to remember.
This is a thriller with an interesting character study on top of it. You can see where the story is going (the ending didn't really surprise me). Paul is fascinating. The story is told from his point of view, which worked really, really well here. Paul only thinks about himself. If he does something nice for someone else in the book, it is only because it has something in it for him as well. He is absolutely terrible to everyone in the book, including those that he loves. He is cold and sees everyone else as flat characters waiting to do his bidding.
The writing and the character study of Paul took this book far for me even if the plot was a little bit predictable. The author does a good job of dropping little hints through Paul as to what kind of person he really is and where things are going. Paul definitely gave me the heebie jeebies throughout the book, which I loved. I love when books can make me feel strongly, positively or negatively! If you like characters that will frighten you, this is a good choice.