Title: A Column of Fire
Author: Ken Follett
Format: Hardcover
Publisher: Viking
Publish Date: September 12, 2017
Source: Publisher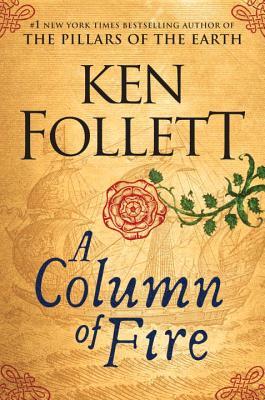 What's the Story?:
From Goodreads.com: "In 1558, the ancient stones of Kingsbridge Cathedral look down on a city torn apart by religious conflict. As power in England shifts precariously between Catholics and Protestants, royalty and commoners clash, testing friendship, loyalty, and love.

Ned Willard wants nothing more than to marry Margery Fitzgerald. But when the lovers find themselves on opposing sides of the religious conflict dividing the country, Ned goes to work for Princess Elizabeth. When she becomes queen, all Europe turns against England. The shrewd, determined young monarch sets up the country's first secret service to give her early warning of assassination plots, rebellions, and invasion plans. Over a turbulent half century, the love between Ned and Margery seems doomed as extremism sparks violence from Edinburgh to Geneva. Elizabeth clings to her throne and her principles, protected by a small, dedicated group of resourceful spies and courageous secret agents.

The real enemies, then as now, are not the rival religions. The true battle pitches those who believe in tolerance and compromise against the tyrants who would impose their ideas on everyone else—no matter what the cost."
My Two Cents:
"A Column of Fire" is the third book in Ken Follett's Kingsbridge series. I have not read the first two books but after reading this one, I really want to go back to read those two books as well as some of Follett's other books! That being said, this book works rather well as a standalone book. Standing at over 900 pages, you are in Follett's very capable hands so the pages fly by! This is a historical fiction epic.

The book takes place during a tumultuous time in England's history: the late 1500s and early 1600s. The country is going through a major identity crisis as to whether it is a Catholic or a Protestant country. Should everyone be in the same mold or can they have more freedom? Who is the rightful ruler of the country? Who can that ruler trust?

This was a time period that was familiar to me but what I appreciated is that for the most part, Follett's characters are just on the edge of history. We meet rulers through them like Queen Elizabeth and Mary, Queen of Scots. We see how calculated each move must be for even these edge-of-history characters in order to be on the "right" side at the "right" time.

This book is action packed and kept me on my toes. In some ways, it reminds me of a soap opera. There's a huge cast but each character has their own unique story. Large casts can often be an issue for me because of the likelihood of characters blending together but Follett really does a good job of creating different storylines that intertwine in surprising ways.

This was a great read!