Title: A Series of Catastrophes and Miracles: A True Story of Love, Science, and Cancer
Author: Mary Elizabeth Williams
Format: Hardcover
Publisher: National Geographic
Publish Date: April 26, 2016
Source: TLC Book Tours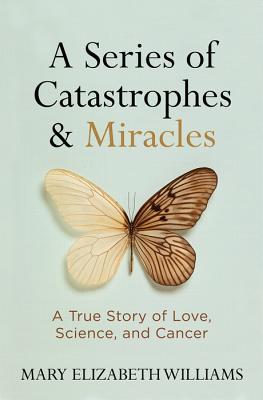 What's the Story?:
From Goodreads.com: "

After being diagnosed in her early 40s with metastatic melanoma—a "rapidly fatal" form of cancer—journalist and mother of two Mary Elizabeth Williams finds herself in a race against the clock. She takes a once-in-a-lifetime chance and joins a clinical trial for immunotherapy, a revolutionary drug regimen that trains the body to vanquish malignant cells. Astonishingly, her cancer disappears entirely in just a few weeks. But at the same time, her best friend embarks on a cancer journey of her own—with very different results. Williams's experiences as a patient and a medical test subject reveal with stark honesty what it takes to weather disease, the extraordinary new developments that are rewriting the rules of science—and the healing power of human connection."
My Two Cents:
In "A Series of Catastrophes and Miracles," Mary Elizabeth Williams takes readers through her ordeal with cancer, a very serious thing. With doses of both seriousness and humor (believe it or not), she shows readers what it is really like to go something like her ordeal and come out the other side. She explores both the science and the sheer force of will it took her to get through something too many people have to face.

I was intrigued by the promise of discussion of immunotherapy and thrilled by the good sense of humor and realness that you find throughout the book. It was so interesting to read Williams' account of what her treatment was like - truly amazing! At the same time, we see what her dear friend has to go through in contrast. This book really showed me both how far we've come and how far we have yet to go when it comes to treating diseases like cancer. This book is a great pick for anyone who wants to know more about what it is like to go through these truly cutting edge treatments.

Yes, this is a serious subject but the author does an amazing job of infusing humor and insight into what happened to her. I like memoirs because they allow me to see my own life through a different lens. I have known so many people who have gone through cancer or who have died from it and this book makes me think a lot about what could have been had there only been more of this kind of treatment sooner!