Title: Summer Days & Summer Nights: Twelve Love Stories
Authors: Stephanie Perkins, Leigh Bardugo, Francesca Lia Block, Libba Bray, Cassandra Clare, Brandy Colbert, Tim Federle, Lev Grossman, Nina Lacour, Veronica Roth, Jon Skovron, Jennifer E. Smith
Format: Ebook (Netgalley)
Publisher: St. Martin's Griffin
Publish Date: May 17, 2016
Source: Publisher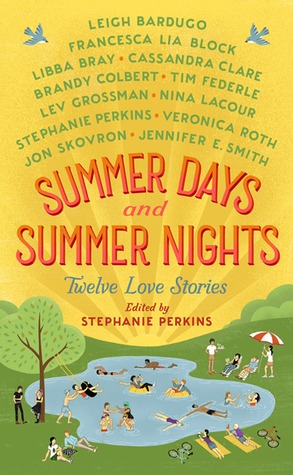 What's the Story?:
From Goodreads.com: "

Maybe it's the long, lazy days, or maybe it's the heat making everyone a little bit crazy. Whatever the reason, summer is the perfect time for love to bloom.

Summer Days & Summer Nights: Twelve Love Stories

, written by twelve bestselling young adult writers and edited by the international bestselling author Stephanie Perkins, will have you dreaming of sunset strolls by the lake. So set out your beach chair and grab your sunglasses. You have twelve reasons this summer to soak up the sun and fall in love."
My Two Cents:
With the weather having been rainy and rather cool here in the D.C. area for the past few weeks, it has been so hard for me to remember that summer is just around the corner. This book was a great reminder for me. There are tons of great authors in this book. Some I've read before (Stephanie Perkins) and others I've wanted to try (Leigh Bardugo, Nina Lacour, etc.). This was a great book to get back to some great authors while trying new authors. This book captures a lot of the carefree summer days of my teenage years.
All of the stories are varied and feature lots of different love stories. As someone who truly believes in the "We Need Diverse" books movement, I was thrilled to see some diverse characters throughout this book. Sometimes I feel like the YA world is way more forward leaning on this than the adult world! There were so many of the stories that I really enjoyed. Each one is different and has some really good characters. I loved Leigh Bardugo's book which had an amazing dose of magical realism - very cool!
The collection of authors here includes some of the top names in YA today. It is impressive to see these authors all together. All of the writers write in different ways but are great in their own ways. This is the perfect book to prepare for the warmer times ahead!