Title: Paperweight
Author: Meg Haston
Format: ARC
Publisher: HarperTeen
Publish Date: July 7, 2015
Source: Publisher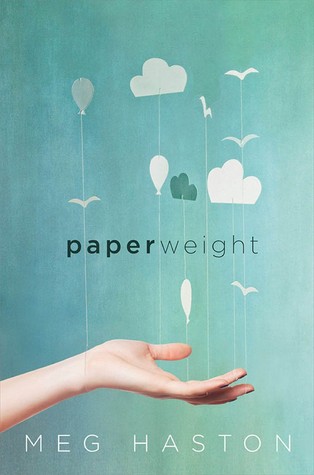 From Goodreads.com: "Seventeen-year-old Stevie is trapped. In her life. And now in an eating-disorder treatment center on the dusty outskirts of the New Mexico desert.
Life in the center is regimented and intrusive, a nightmare come true. Nurses and therapists watch Stevie at mealtime, accompany her to the bathroom, and challenge her to eat the foods she's worked so hard to avoid.
Her dad has signed her up for sixty days of treatment. But what no one knows is that Stevie doesn't plan to stay that long. There are only twenty-seven days until the anniversary of her brother Josh's death—the death she caused. And if Stevie gets her way, there are only twenty-seven days until she too will end her life."
"Paperweight" is the story of Stevie, a girl who is only going to rehab for her eating disorder in order to keep a promise to her brother who passed away. Stevie doesn't know how much longer she can hold on. Her brother is gone, her mother ran off to Paris, and her father seems to be totally absent. Stevie is beginning to wonder if it would be better for her to just end things. This book is a powerful reminder that even when things seem hopeless there is hope if you look hard enough.
This is a young adult book that tackles a huge and difficult subject. There are so many people who deal with eating disorders and depression and this book gives those issues a face with the characters in its pages. I really felt for Stevie; you can see how difficult she feels things are and how hopeless she thinks that her life is. She blames herself for her brothers death, which is a huge weight on her and doesn't feel like she can go on. I wanted to reach through the pages and give her a hug. I think the author does a good job of clearly showing how Stevie feels about her situation and why she's having such a tough time.
The subject matter in this book is definitely difficult but I think the author takes it on it in such a way that it makes the issues accessible and understandable too young adult readers. I think it's so important to have books like this what show readers that even though things aren't always easy, but it's possible to come through even the in the most difficult circumstances.