Title: Girl Waits with Gun
Author: Amy Stewart
Publisher: Houghton Mifflin Harcourt
Publish Date: September 1, 2015
Source:
HFVBT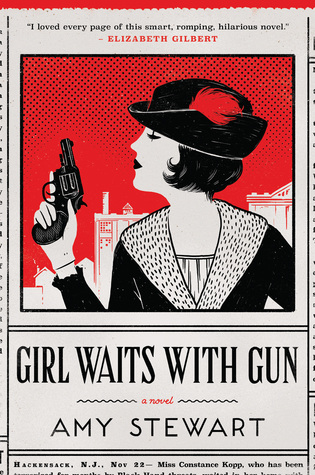 What's the Story?:
From Goodreads.com: "
Constance Kopp doesn't quite fit the mold. She towers over most men, has no interest in marriage or domestic affairs, and has been isolated from the world since a family secret sent her and her sisters into hiding fifteen years ago. One day a belligerent and powerful silk factory owner runs down their buggy, and a dispute over damages turns into a war of bricks, bullets, and threats as he unleashes his gang on their family farm. When the sheriff enlists her help in convicting the men, Constance is forced to confront her past and defend her family — and she does it in a way that few women of 1914 would have dared. "
My Two Cents:
"Girl Waits with Gun" is the story of Constance Kopp, one of the country's first female deputy sheriffs. The book mostly takes place in the early 1900s with a couple flashbacks to the late 1800s. The book centers on Constance and her sisters mostly. The book starts with a bang as the sisters' buggy is hit by a really mean, slimy factory owner who doesn't want to pay for the damages. His unwillingness to pay sets off a chain of events that move this funny and witty historical fiction forward.

Constance is a fantastic character! I loved reading about her and I loved how the author brought her to life. Before reading this book, I was not familiar with Constance at all but I like the way that she was portrayed in this book and would love to read more about the real-life person. Constance definitely wants to be the master of her own destiny in a time when so many women really did not have that ability because of social norms. Constance seems to constantly be testing the boundaries and protecting her sisters. She is definitely a heroine that you can cheer for!

The writing of this book was really good. The author takes a true story that I don't think too many people know about and brings it to life. Constance is definitely an unsung hero of her time. This book only covers up to when she becomes a deputy sheriff (does that mean that there could maybe, possibly be a sequel???). The author obviously did a lot of research in order to not only make the readers see what Constance's world was like but also to bring the characters to life. The book is told from the perspective of Constance, which really brought me into the book. It's no wonder that this book is getting as much buzz as it has been getting!