I'm still celebrating

the pub week for Dryland by Sara Jaffe.





Here's the lineup for pub-week:
Monday, 8/31: Mixed-Tape Memories: Post a picture of a favorite cassette tape, mention a favorite memory or artist/album/playlist

Tuesday, 9/1: Then and Now Around Town: How as your city changed since '92?
Wednesday, 9/2: On Wednesdays We Wear Plaid: Post a picture of yourself wearing plaid with the book!

Thursday, 9/3: Not-So Current Events: Reminiscence on events in your life and in the news in '92

Friday, 9/4: Favorite Picture Friday: Dare to share a picture of yourself rocking overalls, crimped hair, choker necklaces...we will, too!
On to today's topic:

Not-So Current Events!
So back in 1992, I was 7 years old and mostly concerned with going to school and having fun (those were the days). I can remember starting to pay attention to politics. Politics have always fascinated me and living in the D.C. area, it is hard not to pay attention even if you want to not pay attention because you are always surrounded by politics.
It's kind of crazy that in 1992, the Clintons were big news and now in 2015, they are still big news. Time has passed but they are still in the spotlight. They have staying power whether you like it or not!
Here's Hillary Clinton in 1992: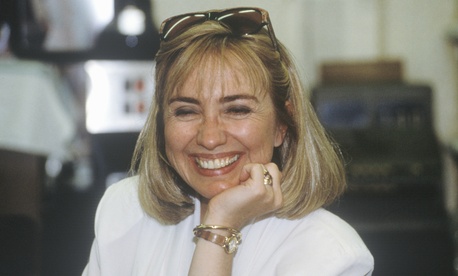 Here she is in 2015:
Wild no?