Title: Catching Jordan
Author: Miranda Kenneally
Format: Paperback
Publisher: Sourcebooks
Publish Date: December 1, 2011
Source: Library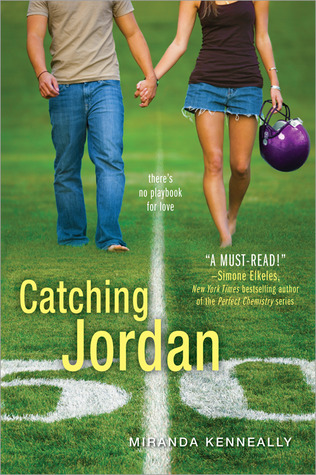 What's the Story?:
From Goodreads.com: "What girl doesn't want to be surrounded by gorgeous jocks day in and day out? Jordan Woods isn't just surrounded by hot guys, though-she leads them as the captain and quarterback of her high school football team. They all see her as one of the guys and that's just fine. As long as she gets her athletic scholarship to a powerhouse university.

But everything she's ever worked for is threatened when Ty Green moves to her school. Not only is he an amazing QB, but he's also amazingly hot. And for the first time, Jordan's feeling vulnerable. Can she keep her head in the game while her heart's on the line?"
My Two Cents:
"Catching Jordan" is the story of Jordan Woods, daughter of a famous football player who is making her own name as the quarterback of her high school football team. She wants to play football in college but doesn't seem to be getting a whole lot of support. Her favored college doesn't take her seriously and now it looks like she might be replaced as quarterback by new-to-town Ty. If that isn't complicated enough, she's torn between the new guy and her childhood best friend and another member on the team.

I love strong female characters and Jordan is definitely one even at her young age. She is constantly fighting criticism from every angle even when she is a really good football player. Even her own father doesn't seem fully supportive even though he is super supportive of her brother who plays college football. She faces criticism for not being girly enough or not thinking enough about her future plans and relying on football too much. Even though she goes through periods of insecurity, she still fights for what she believes in. You find yourself cheering for her along the way!

The love triangle between Jordan, Ty, and Sam worked even though I usually don't like love triangles (they can be so overdone). I really liked Sam and Jordan together. Their history was so cute and I loved how it informed their present. You're pulling for them to figure it out the whole time! I loved following the ups and downs throughout the book!