Title: I Hate Everyone But You
Authors: Gaby Dunn and Allison Raskin
Format: Hardcover
Publisher: Wednesday Books
Publish Date: September 5, 2017
Source: Publisher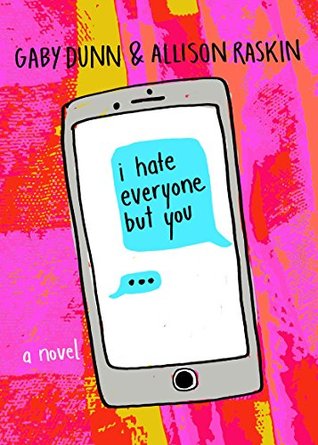 What's the Story?:
From Goodreads.com: "Dear Best Friend,
I can already tell that I will hate everyone but you.
Sincerely,
Ava Helmer
(that brunette who won't leave you alone)

We're still in the same room, you weirdo.
Stop crying.
G

So begins a series of texts and emails sent between two best friends, Ava and Gen, as they head off to their first semesters of college on opposite sides of the country. From first loves to weird roommates, heartbreak, self-discovery, coming out and mental health, the two best friends will document every moment to each other. But as each changes and grows into her new life, will their friendship be able to survive the distance?"
My Two Cents:
"I Hate Everyone But You" is the story of Ava and Gen, two best friends starting their freshman year of college. They're going to schools across the country from each other and are deeply worried about how everything between them may change as they experience all that college has to offer. They're worried that they may not be friends after it's all over. Told through emails and texts, this book seeks to capture all of those feelings you have going away from home and the friends that make home home for the first time.

Because the emails and texts are between two people who already knew each other really well, there was not a lot of character development for me at first. This shifts as Ava and Gen begin to run into problems with finding their way through college. Both of them are involved in new activities that seem to threaten who they once were. Ava isn't particularly sensitive when Gen begins trying to feel her way through new relationships with women for the first time and Ava is forced to confront her mis-perceptions. Ava has her own stuff to work through with a sorority and a new boyfriend.

I've seen novels done through letters, texts, emails, etc. before but I thought this was especially effective for this story. Phones barely had text capability when I went to college but I had long, long, long email chains back and forth to my friends from high school (and I'm still friends with these friends today). This book doesn't break new ground but it does capture something special between old friends.