Title: Goodnight from London
Author: Jennifer Robson
Format: ARC
Publisher: HarperCollins
Publish Date: May 2, 2017
Source: TLC Book Tours and HarperCollins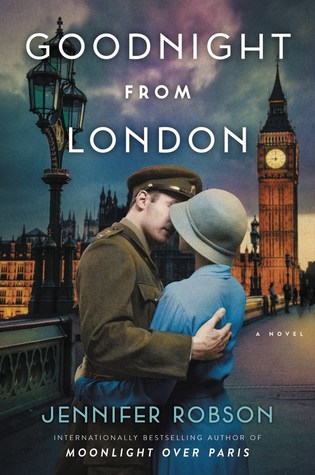 What's the Story?:
From Goodreads.com: "

In the summer of 1940, ambitious young American journalist Ruby Sutton gets her big break: the chance to report on the European war as a staff writer for

Picture Weekly

newsmagazine in London. She jumps at the chance, for it's an opportunity not only to prove herself, but also to start fresh in a city and country that know nothing of her humble origins. But life in besieged Britain tests Ruby in ways she never imagined.
Although most of Ruby's new colleagues welcome her, a few resent her presence, not only as an American but also as a woman. She is just beginning to find her feet, to feel at home in a country that is so familiar yet so foreign, when the bombs begin to fall.
As the nightly horror of the Blitz stretches unbroken into weeks and months, Ruby must set aside her determination to remain an objective observer. When she loses everything but her life, and must depend upon the kindness of strangers, she learns for the first time the depth and measure of true friendship—and what it is to love a man who is burdened by secrets that aren't his to share."
In "Goodnight from London," Ruby is initially thrilled when she lands a job that will take her to London reporting on the war in 1940. In the United States, the war still feels very far away and remote. Ruby is anxious to be where the action is and she knows that this will be a fantastic job to continue to hone her skills as a reporter for a weekly magazine. She doesn't know just how difficult the job will get! Based on stories from the author's own family history, this is a great historical fiction about London during World War II.
Reading fiction and non-fiction about war reporters seems to be becoming a favorite of mine. With characters like Ruby in this book, it is no wonder! Ruby is dedicated to her craft of writing a good story and capturing the facts. This lands her the job in London but Ruby is not prepared for how difficult living and working in a war torn city will be. We see a shift in her throughout the book. While she is a great reporter, she is a little naive at the beginning of the book. We see how she changes into someone who understands the reality of war a little more and just exactly what is at stake. I loved how the author was able to show this shift in the story!
Even though London was at the center of World War II for much of it, I don't feel like I have read about London during the Blitz, which this book centers on. I thought the author did a great job of capturing what it would have been like to be in London at the time. People still must try to go about their daily lives even with the threat of air strikes. They have to find a precarious balance, which is a theme throughout the book. I really liked the descriptions of what the city looked like at the time. This made the book feel real and the things that Ruby and the other characters were going through also added to that. This was a good book with a strong heroine and a good message!