Title: Letters from Paris
Author: Juliet Blackwell
Format: Paperback
Publisher: Berkley
Publish Date: September 6, 2016
Source: Publisher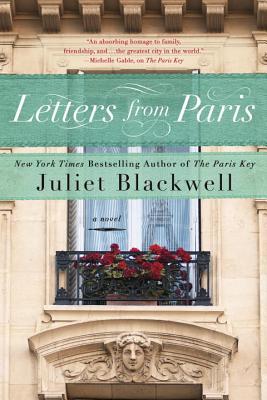 What's the Story?:
From Goodreads.com: "

After surviving the accident that took her mother's life, Claire Broussard worked hard to escape her small Louisiana hometown. But these days she feels something lacking. Abruptly leaving her lucrative job in Chicago, Claire returns home to care for her ailing grandmother. There, she unearths a beautiful sculpture that her great-grandfather sent home from Paris after World War II.
At her grandmother's urging, Claire travels to Paris to track down the centuries old mask-making atelier where the sculpture, known only as "L'inconnue"—or the Unknown Woman—was created. With the help of a passionate sculptor, Claire discovers a cache of letters that offer insight into the life of the Belle Epoque woman immortalized in the work of art.
As Claire uncovers the unknown woman's tragic fate, she begins to discover secrets—and a new love—of her own."
In "Letters for Paris," Claire's dying grandmother sends her on a wild goose chase while on her death bed. Claire's grandmother says that she should go to Paris to try to figure out the mystery of a mask that had been in their family for years. What Claire doesn't know is that there may be a greater reason that Mawmaw wants Claire to go to Paris, one that will help Claire come to terms with her own past.
I love a story with a family secret. This book is full of them. You have the secret of the mask. While the book is mostly focused on Claire, you get a glimpse of the Belle Epoque as well as World War II in the book, which I thought was great. I liked the historical detail in both sets. Mask making and sculpture is so fascinating and I liked the insight that the author provided. Camille Claudel and Auguste Rodin both appear in the book. Both of them are so fascinating to me!
You also have the secrets of Claire's background to contend with in the book. The unraveling of this secret makes for a great ending. It has a little bit of a loose end but was still pretty satisfying. The author does a good job of giving readers a little bit to go on at a time.
The writing of the book was okay. The narrative often dives into telling too much rather than showing. The narrative definitely could have been streamlined a bit more, which would have helped with the flow in some places. The story was engaging enough to overcome some of the issues though!