Title: Paris Nights: My Year at the Moulin Rouge
Author: Cliff Simon
Format: Hardcover
Publisher: Waldorf Publishing
Publish Date: July 15, 2016
Source: PR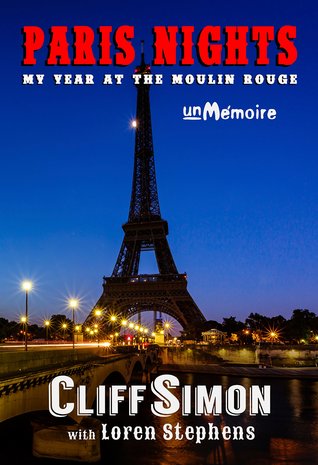 What's the Story?:
From Goodreads.com: "

Paris Nights: My Year at the Moulin Rouge opens with a bored twenty six year old Cliff Simon staring out at the ocean from his beachfront house, wishing he was somewhere else. Gavin Mills telephones him from Paris inviting him to join him at the iconic Moulin Rouge. Cliff sells everything he owns, leaving Johannesburg, South Africa for the City of Lights. He learns that his spot at the Moulin is not guaranteed, and is forced to audition. Making the grade, "he is put into can can" school before he is allowed into the company. His adrenaline is pumping from excitement and fear, both of which he has faced before. Taking a look back we see twelve year old Cliff helming a racing dinghy in the midst of a thunderstorm on the Vaal River. His father yells at him not to be a sissy, and he brings the boat back to shore alone. We then travel to London with his family escaping the tumult of Apartheid. He trains for the Olympics, but drops out, enrolling in the South African military where he subjected to harsh treatment and name calling - Fokken Jood. After a honorable discharge, he works in cabaret at seaside resorts, and is recruited as a gymnast in a cabaret, where he realizes that the stage is his destiny. The memoir fast forwards to Cliff's meteoric rise at the Moulin from swing dancer to principal in "Formidable." Off stage he gets into fights with street thugs, hangs out with diamond smugglers, and has his pick of gorgeous women. With a year at the Moulin to his credit, doors open for him internationally and back in South Africa. He earns a starring role in "Egoli: Place of Gold," and marries his long-time girlfriend, Colette. On their honeymoon to Paris, Cliff says, 'Merci Paris for the best year of my life.'"
My Two Cents:
In "Paris Nights," actor and dancer (who knew?) Cliff Simon recounts his year as a dancer at the famed Moulin Rouge in Paris. He also throws in some other stories from his life throughout the book so the book is not all about the Moulin Rouge but more of a memoir of some key events throughout Simon's life. This is a quick read that will give readers a taste of what it is like to perform at the Moulin Rouge, a place which has captured the imagination of so many over the years!

I have never been to Paris but if and when I get a chance to go, I would love to go see the Moulin Rouge. It has such a rich and fascinating history. You get a bit of a taste of the shows that are put on there in this book, which I really liked. The book definitely whet my appetite even more for getting a chance to visit. The book is mostly focused on what it is like to put on a show rather than the history of the theater or anything like that. I loved the detail that the author included about the performances!

The writing of the book is good. The storytelling is a little choppy as the parts of Simon's life that he chooses to focus on don't seem to be in any order. First, he finds out that he has a chance to work at the Moulin Rouge and next, he's talking about his childhood in South Africa. Because the stories were interested, I still enjoyed the book but I don't think that I got as into it as I could have with all the jumping around as that was a little jarring. Overall, this was an interesting read that could have been served by a little more focus.