Title: Blackwell's Homecoming
Author: V.E. Ulett
Format: Paperback
Publisher: Old Salt Press
Publish Date: January 2015
Source: I received a copy from the author; however, this did not affect my review.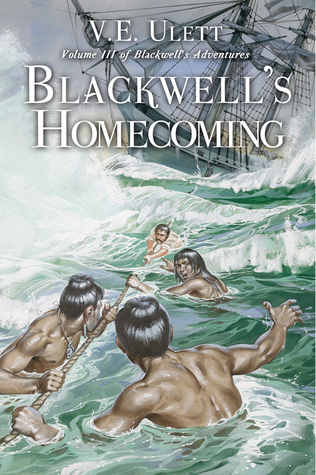 What's the Story?:
From Goodreads.com: "
In a multigenerational saga of love, war and betrayal, Captain Blackwell and Mercedes continue their voyage in Volume III of Blackwell's Adventures. The Blackwell family's eventful journey from England to Hawaii, by way of the new and tempestuous nations of Brazil and Chile, provides an intimate portrait of family conflicts and loyalties in the late Georgian Age. Blackwell's Homecoming is an evocation of the dangers and rewards of desire."
My Two Cents:
"Blackwell's Homecoming" is the third and final book in the Blackwell's adventures series by V.E. Ulett. I have really enjoyed the series and am sad to see the trilogy come to an end. Admittedly, I always have a little trepidation when starting the final book in a series that I've enjoyed. I'm always hopeful that the author is going to be able to end the story of the characters that I have come to know in a satisfying way but sometimes it doesn't happen. Luckily, in the case of "Blackwell's Homecoming" the ending is very satisfying.

This book can definitely stand on its own; however, I think you will appreciate it a lot more if you start from the very beginning of the trilogy. This third book takes up the story of Capt. Blackwell and his wife, Mercedes, as well as their children who are now fully grown. The adventure in the story definitely hasn't stopped. The entire family is hoping for a little more stability; however, it is not to be. This book bring them from England to Brazil Chile and finally to Hawaii all of which are filled with brand-new people who will change and affect the family in ways that they could never foresee.

As with the other books in the trilogy, this book continues to follow the love story of Capt. Blackwell and Mercedes. I love their love story and I love the way that the author portrayed their love as it matures. They care for each other now more than ever. The couple goes through a lot of really difficult things in this book; however, their love for each other shines through. This book also follows the love story of their daughter and their adopted son. I really liked how the author chose to incorporate two different love stories: one old and one new into the book. That being said this book is so much more than historical romance. There's definitely the backdrop of adventure and danger as there has been in the previous two bucks.

I really enjoyed those setting of the book. I loved reading about the Blackwell's time in so many different places. I always love reading about Latin America so I was very excited to read about Brazil and Chile during the Georgian period. The author adds a lot of historical detail to really bring all of these different places to life!

This was definitely a solid and end to the trilogy and I'm very sad to be finished with these books. This entire trilogy has lots of adventure, lots of romance, and lots of wonderful settings that will thrill any historical fiction reader.